Michael's new toy
---
Mon, 15 Nov 2004
Here are some more photos taken of the Station Wagon. I am writing a story on our trip to Adelaide which was quite a trip, which was not uneventful.
Will pass it on to you when I finish it.
Michael is working out already with his friend Eddie Sams what has to be done to restore it.
A big project.
Gwen
Cootamundra to Adelaide to pick up Leyland P76 Station Wagon 12.11.04 - 14.11.04
Left Cootamundra at 11 a.m. for Adelaide. Junee, Old Junee, Coolamon, Narrandera, Hay. Lunch was at Coolamon, decided to have a quick lunch, 40 min later were only just getting the meal that was on special (To be quickly served).
On the way from Hay to Balranald we had a flat tyre in the falcon station wagon. Called in to the tyre depot at 5.25. "Sorry cannot fix it for you too busy, just keep going you will be alright". The spare tyre when we looked at it had a bung put in it not a sleave as Michael usually gets, and we soon found we
Had a slow leak. Arrived at Euston and the service attendant was very good. Rang NRMA no help. Rang the tyre service centre at Robinvale. The guy was really great and put a new tyre on for us and put a new tube in the spare.
We make it to Remark to stay the night at a Motel. We had to look for a motel which we could park the trailer with the station wagon.
The Motel only had two rooms taken for the night, alongside one another and we could hear the people next door every time they spoke or went to the toilet.
Left 6.30 for Adelaide, all ok and arrive at Anton & Joanne Franks house 10.30. View the station wagon. No comment.
Now I realize the photo I had seen had been taken many years ago. I am also realizing Michael was hinting that on the way here.
Oh well, I guess this is the vehicle he wants. I will certainly able to get the rest of that new kitchen now, after this trip.
The Station Wagon is driven onto the trailer. At least the engine goes.
1.15 And we head for home. SMS the family "Picked up scrap metal heading home, Mum". Coming out a car goes past us. I look as it has a price on it and or swap for another car.
The guy waves, we wave back. About 100 metres down the road this guy is pulled up and waving us down. He had seen us go pass, grabbed a second hand vehicle from his car yard and had raced down the road doing excess speed limit hoping he would catch us.
He is in raptures about the station wagon and said he would swap it for a Mercedes Benz. "Yes Michael do a deal" no such luck.
So I go to get something for our lunch while this guy is so excited about the car. I am still thinking " You have got to be joking".
We are on the road again. This guy has rang his wife, who has a business in selling hubcaps about 80K down the road, for us to call in and to give us some Leyland P76 hubcaps. We have about a dozen hubcaps now.
The Falcon starts to get hot and we pull up. This is to be the start of a LONG LONG trip home.
We have a pipe to the gas converter with a hole in it. Michael is able to cut it and put it back ok, and fill the car with water we have.
We pull up at Waikerie for gas and the falcon won't start. Call the RAC and they said we need a new battery. $90.
I go to have a look at a little shop next door and when I came back Michael said a guy had pulled up to look at the station wagon and said " I heard about it but could not find it, I think you are a Pr…. And walked away. Michael just laughed.
We are on the Road again. We are both tired and being 9.30 so decide to stop at Mildura for the night, find we have a flat tyre on the trailer.
Too late to worry about it tonight. Michael changes it in to morning, he has a portable jack, and compressor with him.
The Falcon is cranky to start even with the new battery, and Michael suspects we have problems.
We head for Robinvale to where we had the tyre fixed the night before and call the poor guy out again. On the way we have done
Another tyre on the trailer. At this stage Michael & I are very professional at changing tyres, and wheels.
We limp with three wheels into Robinvale. We have to go about 2k over this little narrow bridge to get there and both of us are thinking
"Hope we don't get another flat going over the bridge".
The guy looks at the station wagon and says to me "I hope it is worth bringing home".
I look at it and think "I hope so too".
We get a new tyre and the spare fixed for the trailer. The falcon is now very hard to start and Michael has to use the jumpstarted he has with him.
We couldn't find a shop open for breakfast in the town, so it is an ice cream and a packet of chip. Delightful.
On the road again.
Michael & I are taking turns in driving to make the trip a bit easier. At Balranald we fill up with gas and have enough to get us home,
Being a duel fuel falcon. The falcon nearly didn't start this time. We have filled it with water again.
131 k to Hay. We dare not stop the falcon and keep the engine going while to get something to eat and go to the toilet.
171 to Narrandera and counting the kilometres.
At Narrandera we get a phone call just at a vital time and miss our road and follow 20 instead of the Newell Highway.
This takes us about 55k out of our way but as it would be a better road. That is not much compensensation when you have
A vehicle which is SICK.
Wagga and then to Junee and onto Bethungra. We boil again and Michael has to try and get the cap off the radiator without stopping the falcon. I get the water. Two last big hills and Cootamundra is in sight. We are pleased to be home. 5.30
We cannot turn the falcon off to unload, which is done quickly. Then up the lane to unload the station wagon, before the neighbours see it. Don & Marjorie Hart arrive who have been looking after our animals, NO COMMENT.
Fred and June Holland then arrive. Fred is a P76 owner like Michael and a Member of the club so they think it is just great.
I download the photos I have taken of the vehicle to send to the family. They know what their Father is like so no comment.
Eddie Sams & Leonie arrive Monday morning and Eddie and Michael are already working out their plan of attack to get the station wagon on the road.
I look at all the vehicles in the shed and think of all the trips we have had chasing cars and parts over the years, and of the wonderful friends we have made. Just this afternoon, friends we met on the way to Perth in 1979 called on their way back to Queensland, it was just so great to see them.
Some people must live boring lives when they are not married to a Historic car nut. I guess I can never say that.
Gwen Livingstone
Photos of Michael's new toy, arriving in Cootamundra today Sunday 14th Nov 2004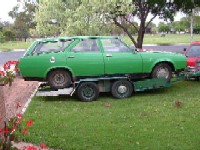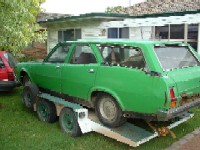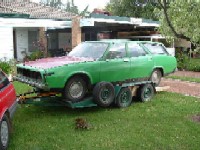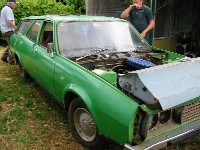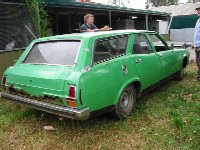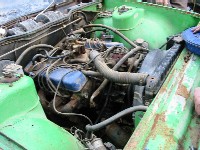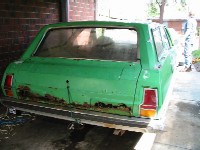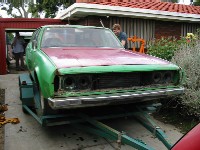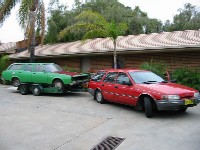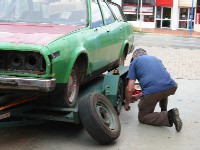 ---
Michael's Green Targa
From: Michael
Subject: Livingstone green_targa_
Date: Fri, 22 Feb 2002 16:45:51 +1100
Thanks for your emails.
At last I am attaching photos of the green_targa_due on the road in the next month




Michael
---
Life of Michael according to Gwen (his wife).
---
From: "Michael P Livingstone"
To: "Adrian Spencer"
Subject: P76 Books
Date: Sat, 20 Jul 2002 10:43:23 +1000

These are the P76 Books I have, does anyone know if there are any others? If you would like to do a swap I have indicated how many I have of each.
Autosafe P76 and the Adr's june/july1973
Modern Motor P76 holden beater December 1972 three
Modern Motor Top Secret Leyland Coupe March 1973 three
Modern Motor Leyland's holden size P76 How it rates july 1973 five
Modern Motor P76 Verses Big 3 aug 1973 four
Modern Motor p76_wagon_in colour oct 1973 two
Modern Motor Inside the P76 Coupe feb 1974 three
Modern Motor Scoop photos of P76 Coupe may 1974 two
Modern Motor Force 7 page 67 July 1974 one
Modern Motor Force 7 page 5 Oct 1974
Modern Motor P76 Targa Florio Nov 1974 three
Modern Motor P76 Hatchback - The force that might have been Dec 1974 two
Modern Motor Page 24 S/Wagon Page 47 Force 7 May 1975
Modern Motor Page 68 Leyland P76 from 1973 - 1975 April 1981
Motor Manual Leyland P76 the all new car that really is July 1973
Motor Manual We drive Force 7 January 1975
Racing Car News P76 A sporting challenger Aug 1973
Top Test No 6 P76 makes the grade Page 40 ?
Wheels Leylands Big V8 June 1972
Wheels Page 10 Feb 1973
Wheels P76 First full colour photos April 1973 two
Wheels We drive leylands July 1973 four
Wheels Full test P76 V8 Aug 1973
Wheels Giant Comparison big four Sept 1973 five
Wheels P76 Hatchback Nov 1973 two
Wheels Car of the Year Jan 1974 two
Wheels Wheels car of the year P76 Feb 1974
Wheels Page 50 March 1974
Wheels Page 97 June 1974 one
Wheels Force 7 All the facts Aug 1974 four
Wheels Leyland the real story behind the news Dec 1974
Wheels Car of the year (top six fight it out) Jan 1975 one
Wheels Leyland Page 19 March 1977
Wheels Leyland page 139 Nov 1980
Wheels Page 82 loved by some derided by many Nov 1982
Wheels Road Test 25 Leyland P76 Monaro GTS/4 May 1975 one
Street Machine Page 96 P76 on show at Perth rally 2002 July 2002
Classic & Sportscar Page 33 May the Force be With you Dec 1983
Fuel Systems Servicing British Leyland
Leyland P76 Book by Hal Moloney
A Boot full of Right Arms Evan Green
Unique Cars Page 52
Anything But Average Easter 2002 National Meeting by James Mentiplay
Hamlyn's Holiday Atlas of Aust P76 on cover
Motor Manual Road test on Excutive Aug 1973
Adrian Could you please pass this on to all P76 owners on your email list Michael Livingstone Phone 02 69 421039 or Mobile 0428 421039 Email ModelA@bigpond.com
---
More pictures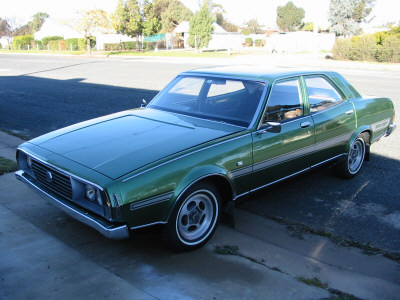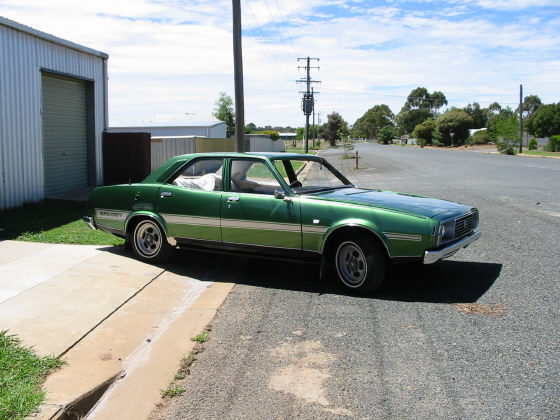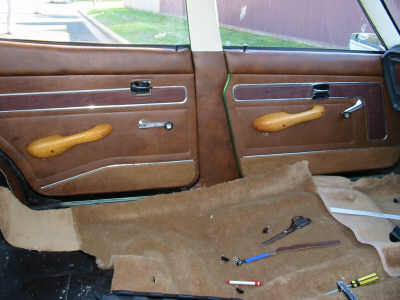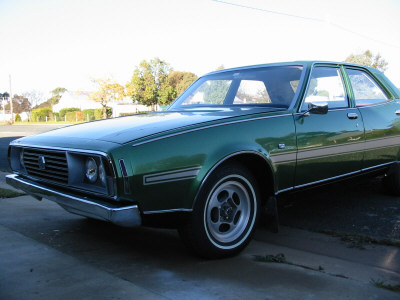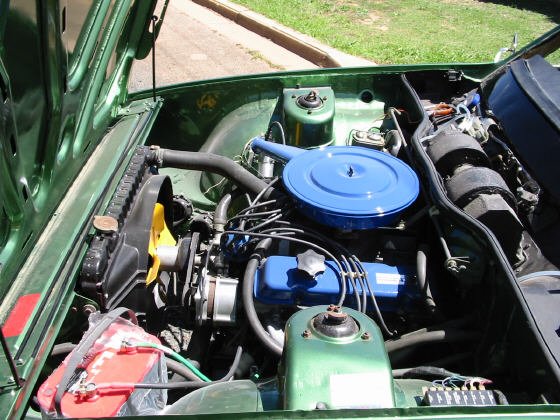 ---
Meeting of P76 in Coota - Aug 2003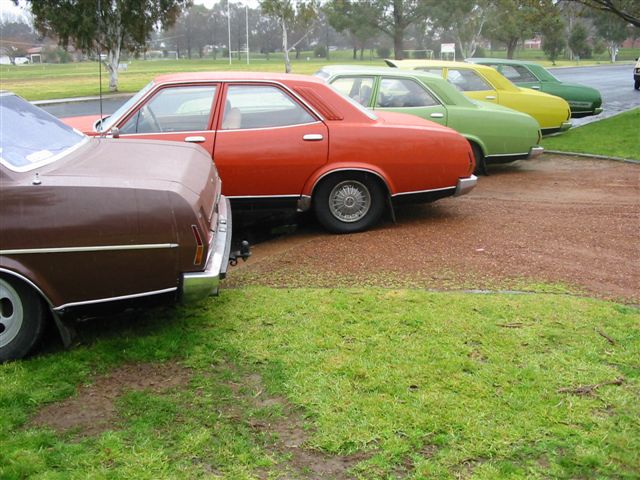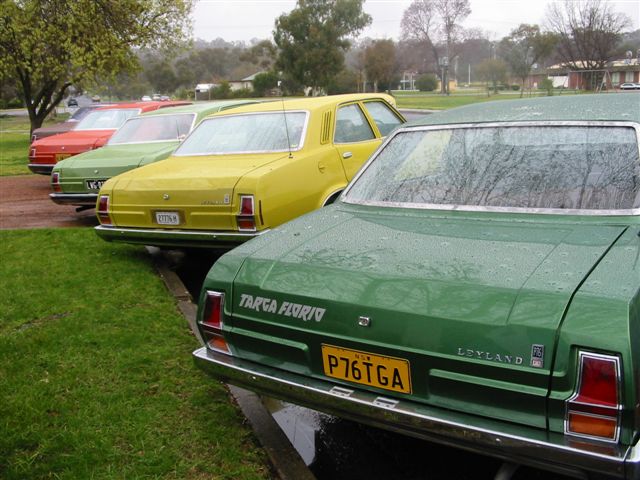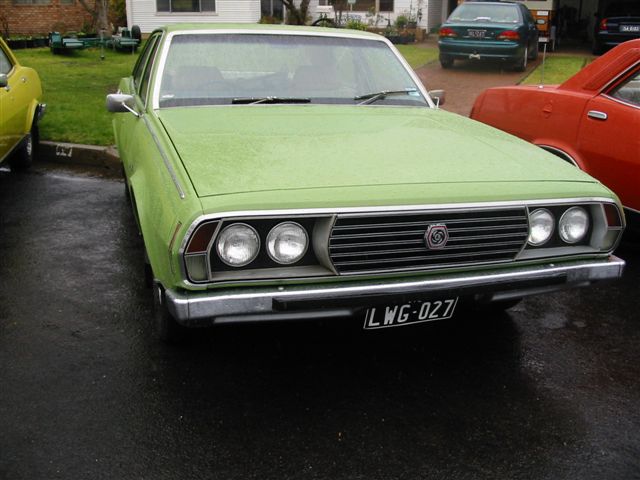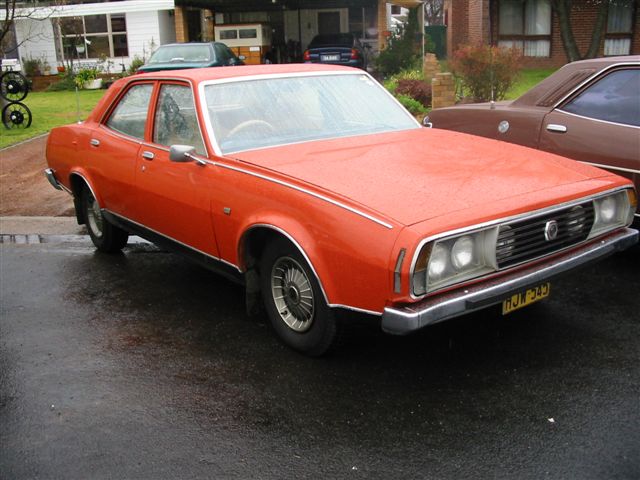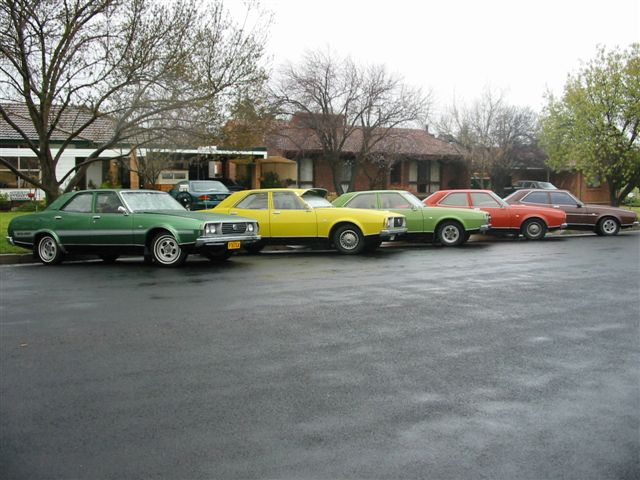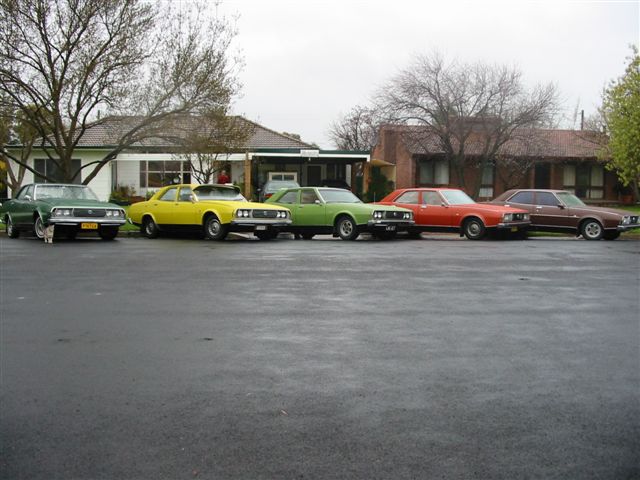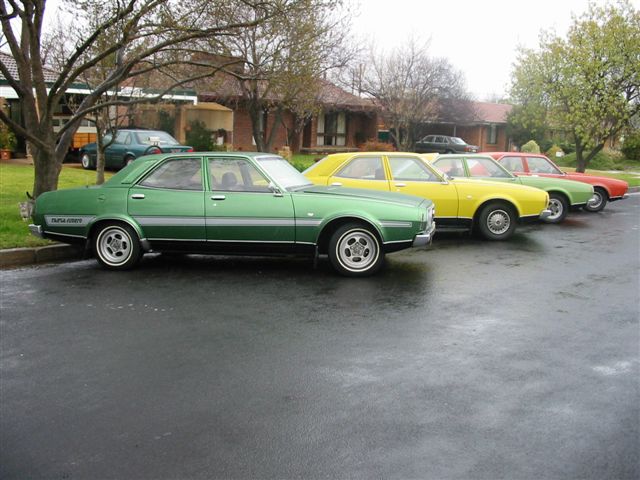 ---
New Song for Michael
From: "Michael & Gwen Livingstone"
To: "Adrian"
Subject: Leyland song
Date: Sun, 8 Aug 2004 21:14:30 +1000
Adrian,
This a song that was written by a friend of ours a few years ago .
They sang it to Michael at our Wattle Time Rally when he was rally director, about eight years ago and I have changed a few words, to update it for now.
Hope you like it
Gwen
To the tune of the Pub with no Beer
It's lonesome away from City members and all
Out in the Bush where we answer the call.
But you can be happy out here in the sticks
If you go out and find a P seventy-six.


Now some like their Holdens and some like their Fords
And some like Cadillacs for pleasing their broads,
Chevvies and Rileys can give you your kicks
But there's nothing as sexy as a P seventy-six.


Michael from Coota has the 76 Bug,
His car is a beauty and he's feeling quite smug,
The colours's a brown which Gwen doesn't like.
But she says it's more comfy then riding a bike.


Now Ray and Craig are buying them too,
And Fred from Coota may have three, Yes that's true
They're simple to work on and easy to fix,
That's why they're all buying a P seventy six.


Now, Plates Registrar Eddie, with pride in our Club,
Has a FJ Ambulance, as shiney as they come.
But I'm sure he'd be happy to try a few tricks,
At the wheel of his new P seventy- six.


If you want a fast car, that's good on the straights,
Buy a P seventy-six, (or two P thirty eights),
The brothers called Leyland, would have made better pix,
If only they'd used a P seventy-six.


The boot is enormous; they say it can fit,
A forty-four gallon and still spare a bit,
But it's really for carrying home all the bits,
That drop off, while you're driving the P seventy-six.


By Dennis Shepherd.
And Gwen Livingstone
---