| | |
| --- | --- |
| P76 Owners U.K. 2012 | |
Now owned by Alan 2012
No. 1 (Revised 2nd May, 2005)
P76 off the production line
---
Hi everyone,
Kev here in the UK, I am please to announce that I do have paperwork to prove chassis number and such.
The car has come with alot of spares which would indicate that another car was broken up for some reason, still trying to work that one out.
There is no compliance plate so far, I am trying to track that down with the other owners.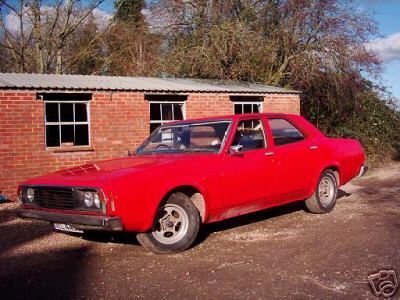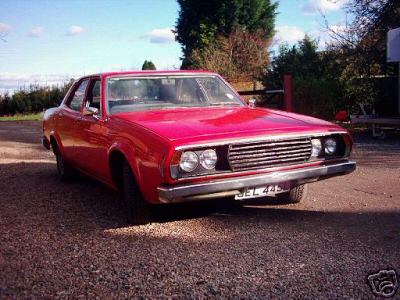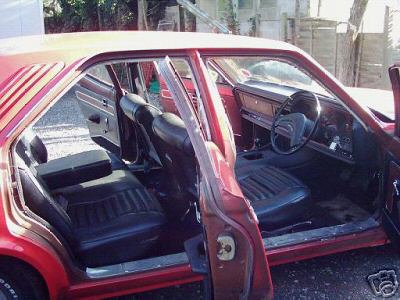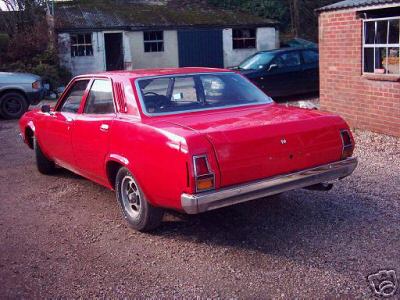 It has only just surfaced after many years when i bought it.
Not even James Mentiplay new it was still around till I asked him to check my chassis number 001.
"It was the first 3 speed t-bar auto off the production line if not the first p76 ever off the line",
according to James.
Attached is a pic of what I belive to be my car at Buckingham place on press release day of the P76.

At that time only two were in the uk mine was country cream at the time.
Cheers
Kev
Couple of pictures of a drawing that came with the car.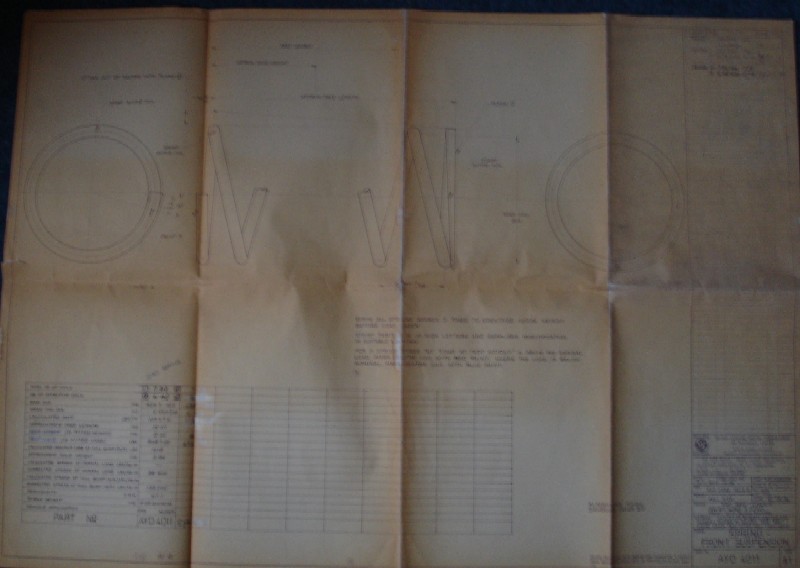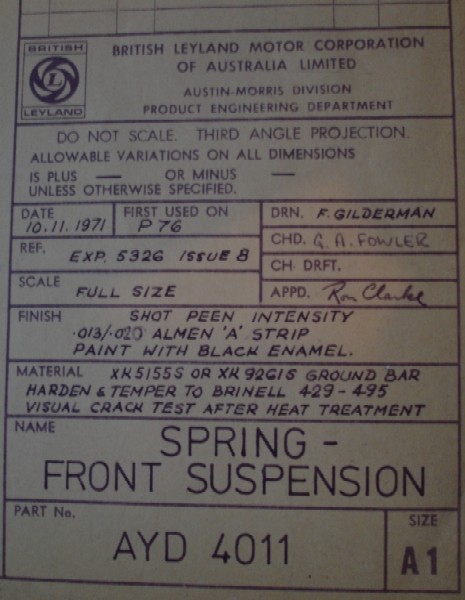 ---
Sun, 1 May 2005
Hi Hal
You said about reversing lights on my car well there is nothing visable on the out side till you take off the bumper, my number plate lights seem to be diffrent to what is shown in the book.
I have 3 bulb holders, attached is a pic mabe you can shed some light on this.
Also there seems to have been 2 plates welded where you would think 2 exhaust would be on the rear valance, the welding in not very good so I would not think is was done by the factory.
A picture of this is attached.


Bearing all this in mind dont forget my car was suppose to have been used by Vanden Plas for body and trim experiments.
---
From Kev to Hal
Mon, 2 May 2005
hi guys
being as my body number is 087, as in 87 th built i have asked james how it came to have 001 for a chassis number,
any ideas.
regards kev
---
From James to Kev
Hi Kev,
Thanks for forwarding the numbers onto us.
These are the SMB ( sheet metal body ) numbers that are stamped onto the shell after initial completion prior to having the compliance plated afixed.
76-3 confirms that it is a Super model ( Level 3 ) and the 087 tells us that it was the 87th Super in total built. This means that while being an early build car, it isn't the first P76 built.
All the best,
James
---
Mon, 2 May 2005
hal
i dont know if roger foy is still around, or any workers from the factory. it would be intresting to know how car 087 on the production line as pointed out by james happened to end up with 001 the first chassis number, or was there no order to the plates mabe.
my other thought was that the bodys werent used in any order just first come first served, as in bodys built and put to one side ready for the production line.
i find this all a bit odd, and would be keen to learn the out come.
in any event i like my p76 whatever the numbers say, and cant wait to have a drive.
regards kev
---
From Hal to Kev
Mon, 2 May 2005
Kev,
Gooday again.
One of the problems with the early P76 chassis numbering is this, there where 13 different models so there are 13 P76 cars with the chassis number 1001. The chassis prefix is different on all 13 cars.
The chassis prefix is the part before 1001. On your car it is 076......P76
A
4...4 doors
S...Sedan
3...Level 3 or Super
A...T bar auto...4 speed manual would be M
44...4.4litre engine.
The sister car that went to the UK with yours was 076B4S3C44 1102 and was Orange.
One thing I did not check with you was Power steering. Your car had power steering fitted at the Rover factory at Solihull when it arrived in the UK, does it still have power steering.
There is a possibly that your car could still be a very early even with the body 087 as approx 100 shells were stockpiled before assembly and I have no doubt that for this exercise a shell could have been grabbed at random. Let me look into this further.
Yes I am driving the car in the round Aus trial.
I think at this stage we should all keep in the loop so we can help you. That is Gary, James and Adrian
Regards,
Hal
---
Kev to Hal
Mon, 2 May 2005
hi hal
thanks for all your help, i dont know where i would get all this infomation without you.
and yes my car does have power streeing.
but no air con is that correct.
i thought they might have stocked bodys before build if mabe the line was not ready for them.
once again thankyou.
regards kev
---
Fri, 6 May 2005
From: "kev dunne"
Subject: uk p76
hi guys
having spoken to roger on monday it turns out there was never a compliance plate fitted to either of the 2 cars that
roger brought over to the uk. the plates were taped inside rogers diary to show bl uk what a compliance plate was.
roger still has one but alas he gave mine to bl as a keep sake
back in 1973, so chances are it has long been lost.
so i have given up hope of finding it.
but never mind i still have the car.
regards kev